Adaptive Approach Publications
Our 'Adaptive approach' publications are aimed at strategic decision makers working in charities. They are based on best practice recommendations and specific techniques that Adapta has developed to the traditional well-known processes. Each cover technical areas in a practical easy to follow step-by-step guide.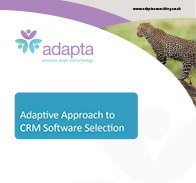 Adaptive Approach to CRM Software Selection
The adaptive approach to CRM Software procurement is a technique that Adapta has developed as an alternative to the traditional and well-known tender process. It is an essential read for anyone looking to acquire strategically important software that has a user base spanning several departments, and is particularly beneficial in situations where the organisation is required to proactively manage the complex situations presented by today's rapidly-changing business environment.
Adaptive Approach to Information Security
Charities have a legal duty to look after their information properly, and would face significant damage to their reputation if any data about their supporters or beneficiaries were to be lost or stolen. Managing information security is therefore vital and should pervade all aspects of an organisation's operations. Information security is a management issue not an IT issue. Our Adaptive Approach to Information Security is based on the principles and best practice recommendations set out in the ISO/IEC 27000 series.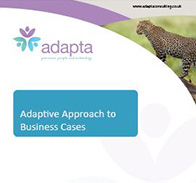 Adaptive Approach to Business Cases
Decision making is part of everyday life, but the processes behind the decisions we have to make vary depending on their complexity. For decisions that involve your organisation in serious investment issues, it is absolutely essential that you have all the facts, figures and issues laid out so you can make the best decision possible. A sound business case will help secure commitment and engagement across the organisation and ultimately lead to a greater chance of success. This guide aims to help you put together a business case to support good decision-making, particularly for investment in IT.