NFP Technology Leaders
Connect, Network, Ask Questions, Support, Share, Innovate, Promote
NFP Technology Leaders is a WhatsApp group run by Adapta on a non-commercial basis for people who have responsibility for IT, digital, data or other aspects of technology management (e.g. business applications, security/data protection, transformation) in the charity/not-for-profit sector, or who have an interest in those topics. Please respect each other's opinions and allow for constructive debate. The group is organised by Adapta Consulting on a non-commercial basis.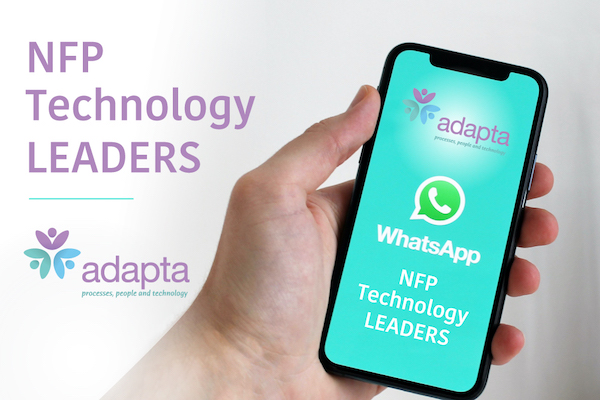 Joining The Group
The group is open to people working in the charity and not-for-profit sector. To join the group, please drop us a line via our contact form (see footer of this page) or email paulstirrat@adaptaconsulting.co.uk with your name, organisation, and the mobile telephone number associated with the WhatsApp account you would like to use to join the group. Once verified, you will be added to the group.
Please note that your mobile number and WhatsApp profile (name, status message etc) will be viewable by other members in the group.
Group Guidelines
Please read the following guidelines before requesting to join. They are designed to ensure the NFP Technology Leaders group remains professional, vibrant, and useful for all group members.
The primary focus of the group is the discussion of matters relating to the management and use of technology in the not-for-profit sector (whether related to IT, digital, data, software applications, security, data protection, or anything else that is of relevance to an NFP Technology Leader). Do use it as a resource to ask questions, share tips/experiences, and share news and other information with other members – that's what it's there for!
The group is open to people working within charities, membership organisations and other non-profit organisations. It is organised on a non-commercial basis and is intentionally kept free of supplier participation.
Be professional, kind, polite and respectful of other members. Healthy debate is fine, but undermining or offensive remarks are not permitted.
When posting messages, please bear in mind that there will be a wide range of skills and experiences in the group – this is one of its strengths!
Social chat is encouraged, but the main purpose/theme of the group should be kept in mind and comments should be relevant to the majority of members.
Please do share news and information about events, products, companies and anything else you think would be of interest to the group. Spamming is not permitted and promotions of products and services (even when free) are only allowed when approved by the Group Admins. Opinions are very much welcomed, however do remember that this is a public forum: any information shared about product/services and companies must be accurate and truthful.
Feel free to post job adverts or to seek help with a job search – providing it's relevant to the field of NFP technology. We're here to help each other!
By joining the group, you confirm that you understand and you agree that Adapta does not endorse or carry responsibility for any of the messages posted or the opinions expressed by the group's members.
Breaking these guidelines may lead to removal from the group. We ultimately reserve the right to remove messages or remove/block a member from the group at any time, without explanation.

Accessing WhatsApp
You can download WhatsApp on your Android mobile, iOS, or Desktop windows here. Here you can also find the minimum requirements for downloading the app on each platform device. WhatsApp Download