Upcoming Events
Our events focus around strategic shared learning for senior managers to gain knowledge and understanding from peers with the key aim of drawing out best practices. At each event guest speakers from charities are invited to give case study style presentations, sharing practical insights into current issues facing the sector. This is followed by facilitated group discussion. Our events are only open to charities, membership organisations and other non-profit organisations.
We have an enviable track-record for hosting events that address the demands and challenges affecting organisations through change. Almost 100% of attendees rate them as either excellent or good. But don't just take our word for it – click here to view what some of our regular delegates have to say as they share their thoughts on our peer-learning programmes, and why they continue to attend.
Please note that Adapta's "Answer Time" and "Cake" sessions cover topics at a broad level, and as such any information provided is given for general purposes only and does not constitute professional advice. Participants should not act on the basis of any information provided during a session or in any of its supporting materials without obtaining proper professional advice specific to their situation. Adapta makes reasonable efforts to ensure that the information provided is accurate and reliable, however no warranty is given and it may be subject to change at any time.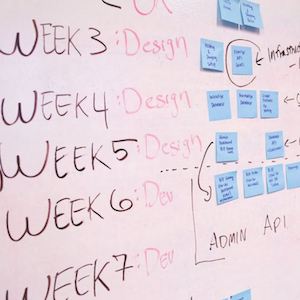 Project management and cake
Wednesday 14th September 2022 at 14:00 GMT
The King's Fund , 11 Cavendish Square , London , W1G 0AN
£0.00 60
Supporting people through change is a critical element in all technology projects. The successful adoption of new technology always depends on people, particularly with the strong values-driven ethos present in the not-for-profit sector. We know that understanding the impact of change, communicating the change, and supporting people to adopt the change is key to successful delivery. In this session, we will explore some practical considerations and techniques to ensure people are supported through your technology change projects, and to help you consider and plan for any formal HR activities which may be required. Through case studies and discussion, we will learn what has worked well in other organisations, and what might help you to deliver these changes in the future.
View Event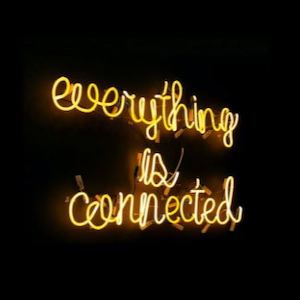 Digital strategies and cake
Wednesday 16th November 2022 at 14:00 GMT
The King's Fund , 11 Cavendish Square , London , W1G 0AN
£0.00 60
What makes for a good digital strategy and where do you start? In this session we will discuss the key elements to an effective strategy; what that needs to address; and we'll hear from leading organisations about where they've been successful, where they've struggled and how they overcame some of the challenges they faced.
View Event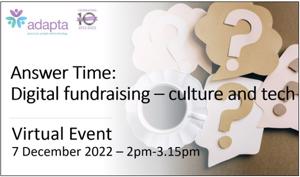 Answer Time: Digital fundraising - culture and tech - Virtual Zoom session
Wednesday 7th December 2022 at 14:00 GMT
£0.00 25
Adapta's discussion sessions are among the most sought-after events in the third sector calendar. Answer Time forms part of our online collection of webinars, round-table discussions and video talks, and features a panel of thought leaders and specialists from the sector. At each session we bring together a different group of experts to answer your questions about the opportunities, challenges and changes facing the sector.
View Event