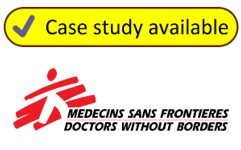 Médecins Sans Frontières UK Case Study
Fundraising data system review
About the organisation
Médecins Sans Frontières (MSF) is an international, independent, medical humanitarian organisation that delivers emergency aid to people affected by armed conflict, epidemics, pandemics, natural disasters and exclusion from healthcare. They offer assistance to people based on need and irrespective of race, religion, gender or political affiliation. They provide medical care to help people survive catastrophic situations, where communities and health structures may be overwhelmed.
The challenge
Adapta has helped MSF with a number of projects to support the fundraising teams. MSF relies substantially on individual donors to support its work and had achieved a substantial increase in the supporter base, including a significant number of new donors recruited online. Staff had developed the fundraising systems with associated outsourced providers to meet the changing needs and asked Adapta to help with a review with the aim of streamlining the processes and rationalising the data flows while also ensuring disaster recovery and business continuity.
Adapta support
We have carried out various engagements with MSF, including reviewing processes and help with systems requirements and selection. We are familiar with MSF's culture and values, as well as with key staff in the organisation. Each engagement has involved reviewing background information, holding meetings with staff and suppliers as appropriate, producing reports, documentation and plans, and discussing findings and recommendations with MSF throughout. In gathering findings, we engaged with staff and discussed current activities and future aspirations as well as challenges, risks and concerns. The meetings and workshops ensured that staff were able to contribute to the outcomes as well as understand the next steps from an organisational and individual team perspective. We produced practical reports, including descriptions of the resulting projects and dependencies, together with workable plans.