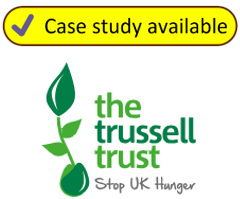 The Trussell Trust Case Study
Strategic IT support
About the organisation
The Trussell Trust supports over 1,200 food bank distribution centres around the UK, providing emergency food and support to people locked in poverty. In the financial year 2019-2020, the Trussell Trust distributed 1.9 million three-day emergency food supplies to people in crisis. The Trussell Trust also plays a leading role in campaigning for change to end the need for food banks.
The challenge
During a period of significant organisational change and a growth in the need for the Trussell Trust's services, it had become apparent that the information systems infrastructure supporting that change had not kept up. In order to bridge that gap the Trust needed a clear and well-articulated plan for the future development and resourcing of their technology needs, and support to ensure the delivery of that plan.
Adapta support
The Trussell Trust therefore appointed Adapta to conduct an initial review of their information systems, touching on areas such as IT strategy, project governance & management, business systems, infrastructure and resourcing. Having completed this work, and with a clearer vision of how technology should support the Trust's various activities, a small team from Adapta was then retained in order to establish new structures to oversee and manage the technology programme and associated projects, and help with the selection and procurement of new suppliers and technology solutions where gaps had been identified. The results of this work were soon to be severely tested. In April 2020 the COVID-19 pandemic resulted in an 89% increase in the take up of emergency food parcels compared with April 2019. The systems used to manage foodbank referrals and food parcel provision had to support this growth, and - with over 13,000 members of the public offering to volunteer, and a significant growth in fundraising activity – so did new systems to support volunteering and the existing CRM and digital platforms supporting fundraising, marketing and campaigning. With solid technology and governance foundations in place, the Trust now benefits from a perfect blend - combining a strategic approach to IT with tools and ways of working that can respond quickly to changing events and support agile innovation.