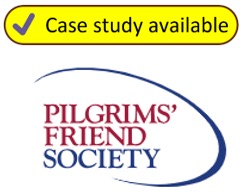 Pilgrims' Friend Society Case Study
Strategic IT support
About the organisation
The Pilgrims' Friend Society helps older people to flourish as God intended and live fulfilled lives in older age. As well as providing secure, comfortable homes and professional care, older people are supported and encouraged to spend the later part of their lives contributing to the world around them, growing and enjoying fulfilling lives. To carry out their day-to-day work, Pilgrims' Friend staff rely on effective and reliable IT systems and information. In total, Pilgrims' Friend employs approximately 500 staff, the majority of whom are carers, plus also managerial and administrative staff based either at the London head office or at one of the care homes or housing schemes.
The challenge
When Pilgrims' Friend Society approached Adapta, they did so with a desire to become more efficient and effective at what they did, and to empower their staff with technology to help them provide the very best care. Therefore, Pilgrims' Friend Society decided to seek independent and impartial advice from a firm of consultants that was familiar with the range of software available to not-for-profit organisations.
Adapta support
Through a series of workshops with senior managers and meetings with the teams involved in day-to-day operations, Adapta's consultants carried out a strategic review in order to identify and define a future high-level IT architecture, operating model and roadmap. The main deliverable from this consultancy work detailed these plans, how they would support the charity's strategic objectives, and identified the 'technology programme' of activity that would be required to deliver the necessary change – including recommendations on technology solutions in each area, potential suppliers, estimated resources and budget, and likely implications for business processes and organisational culture. Once the business case for investment had been approved, Pilgrims' Friend Society then retained Adapta's services in order to establish the necessary programme governance and project management structures, and to oversee procurement processes to secure the appropriate technology solutions and suppliers in each key business area. Work then began to implement new care management systems – supporting areas such as point-of-care delivery, staff rostering and occupancy management. New solutions were also put in place to support fundraising, marketing and volunteer management. With a new care home in Chippenham which became operational during the rollout, the new systems both supported the work of that home and acted as a template for the operating model of the other care homes and housing schemes across the UK. The technology programme also included modernisation of the IT infrastructure (including in support of new ways of working), strengthened information security and data protection, and streamlining of back-office processes.