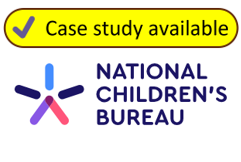 National Children's Bureau Case Study
Digital strategy
About the organisation
For 50 years NCB has been influencing policy and improving practice to build a better childhood, where every child and every young person gets the right support in the right time and place, no matter what challenges they are facing. To do this, NCB builds partnerships across and beyond the children's sector and trains those who work directly with children, young people and families, to make sure the changes are long-lasting. NCB also runs several specialist membership groups, each uniting the sector to tackle specific issues affecting children.
The challenge
NCB recognised that their organisational strategy and ambitions – ambitions to become more influential; to empower children and young people; to bring organisations together; to build the skills and knowledge of those professionals working with children; and to be seen as a pioneering and high-performing charity – all needed to be supported by modern approaches to digital - both to ensure that NCB's stakeholders had a great experience of engaging with the charity, and also to ensure that NCB's technology, business processes and people were working as effectively and efficiently as possible.
Adapta support
NCB therefore appointed Adapta to work with stakeholders from across the organisation to confirm how their ambitions needed to be supported by new digital approaches, and to share examples of digital innovation – from both within and beyond the non-profit sector. With a broad remit – touching upon themes such as technology and data; digital culture, skills and mindset; governance and resources – Adapta's consultants then worked with NCB to develop a new digital strategy, and agree a roadmap and investment plan for implementation. Related to this, Adapta helped NCB identify the technology ecosystem required to support this strategy, and where each of the component parts – i.e. CRM, learning management systems, web CMS, digital marketing, events management, video conferencing, business intelligence – would be expected to contribute.