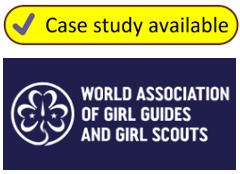 WAGGGS Case Study
IT infrastructure review
About the organisation
The World Association of Girl Guides and Girl Scouts (WAGGGS) is the largest voluntary movement dedicated to girls and young women in the world. It is an international organisation with offices and world centres globally with its headquarters in London.
The challenge
Adapta was asked to identify areas where there was potential for enhancing the end user experience of IT throughout the organisation, and for building a robust and reliable platform that would enable WAGGGS to introduce new technology to support evolving operational needs. These included areas of collaboration and knowledge sharing, internal communications and alignment of systems with desired business processes. They also wanted Adapta to look into ways of working and management information requirements in the future. Existing processes used a variety of techniques to communicate globally, such as Skype and landlines, plus email and other tools, developed piecemeal as the need had arisen or technology had become available.
Adapta support
Our role was to assess the existing systems infrastructure, management and support arrangements and to recommend any improvements that would be needed to provide confidence in effective and efficient day-to-day operations now and for the next three to five years going forward. To gain an understanding of operational needs and requirements a series of consultations were carried out with key staff. These included a representative cross section of users, representatives from the world centres and other overseas locations, through video conferencing. We also met the current IT supplier. Initially we focused on understanding the current set up and technology. Most of the servers were physically hosted at the World Bureau in London, so we compared this with the operational needs and requirements we had identified from the consultations with users. We made sure we had identified other relevant strategic considerations such as the fact that WAGGGS is a global organisation and that normal Monday to Friday 9-5 IT support wouldn't work well. Everything needed to be reliably accessible by staff around the world, bearing in mind that some locations have significantly better connectivity than others. The new systems had to enable staff to collaborate, communicate and share information using appropriate tools. A detailed report provided WAGGGS with recommendations for high quality solutions fit for a business environment. It set out the options and prioritised recommendations that included matters of resourcing as well as more technically focused suggestions around the infrastructure itself that would enable the provision of an effective and robust IT server. This meant including aspects such as an IT support/helpdesk, hosting of data, use of Cloud based solutions, organisation-wide applications and databases, telephony/integrated communications and disaster recovery provision. We talked through the recommendations with WAGGGS and are happy to say they are now in the throes of implementation.