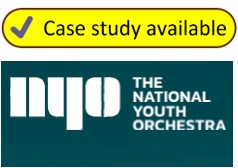 National Youth Orchestra Case Study
Audience-focused CRM strategy
About the organisation
NYO (National Youth Orchestra of Great Britain) is the world's greatest orchestra of teenagers, dedicated to promoting orchestral music whilst empowering and inspiring young musicians and their peers. Every year, NYO seeks to enrich the lives of 10,000 young people through live performances and engagement in its NYO Inspire and NYO Open programmes. NYO relies on voluntary donations for more than 70% of its income, which it gets from individuals, trusts, corporations and legacies.
The challenge
As part of a wider programme of digital transformation, NYO's CRM system was struggling to support some of the core needs of the organisation – in particular failing to provide the platform needed to drive a planned growth in fundraising, with challenges experienced in critical areas such as integration with digital marketing and online fundraising channels, support for key areas of high-touch relationship fundraising with major donors, corporates, trusts etc., and reporting and analytics. Furthermore, NYO needed a system that could work alongside a wider ecosystem of tools to drive engagement with key audiences, such as NYO's digital marketing platform, NYO's website and - in order to meet teenage musicians where they are - an improved digital interface through which they interact with musicians from initial application through to programme and event management.
Adapta support
Through a short process focused on identifying the needs of NYO's various audience groups, understanding the core business processes that needed to be supported, and identifying and agreeing priorities within the wider digital programme, Adapta helped NYO identify a preferred platform – in this case Salesforce – select an implementation partner, and establish a business case and appropriate budget.